Regular price
Sale price
$37.79
Unit price
per
Sale
Sold out
Choose your Facial & Body Cupping set With or Without oil.
 Not only does this luxurious oil  provide a slide without slip and formulated not to leave greasy residue, it is also jam packed with Antioxidants, Vitamins, Minerals & botanicals known for helping to restore and hydrate dry skin, improve skin texture and tone.  
We also added two botanicals in this cupping oil which you usually only see in more expensive oil products, but it was that important to us.  What is is?  
Evening Primrose Oil & Rosehip Seed Oil.
Body & Facial Cupping Benefits:
Cupping may help lift, sculpt, and define your natural beauty, naturally. Decompress and release tissue to drain lymph and releases muscle tightness. Plump, tighten and lift sagging skin, tone muscles and stimulate collagen and elastin production.
What Can I Use Body & Facial Silicone Cupping Cups For?

Eye bags, wrinkles, double chin, crows feet, lip plumping, puffiness, neck, scars, increase elastin and collagen, sinus issues. May help decrease discomfort in aching areas, speeds up athletic recovery, helps heal injuries, reduces pain from arthritis and muscle spasms. Improves circulation and decompresses tissue.
How Often Should I Do Body Cupping?

Body gliding cupping may be used 3-5 minutes per area, 2-3 times a week.
Face & Body Cupping Kit Includes:

3 Silicone Anti-Slip Grip Body Cups


1 Large Body Cup
1 Small Body Cup
1 Extra Small Body Cup

2 Facial Cups
Written Instructions by Professional Cupping Instructors
Access to Videos & Tutorials Online
We design quality body and facial cupping products we stand behind. Used by professionals and for personal use. 30-day money-back guarantee, if not satisfied with your results, 1-year limited warranty. FREE SHIPPING!
View full details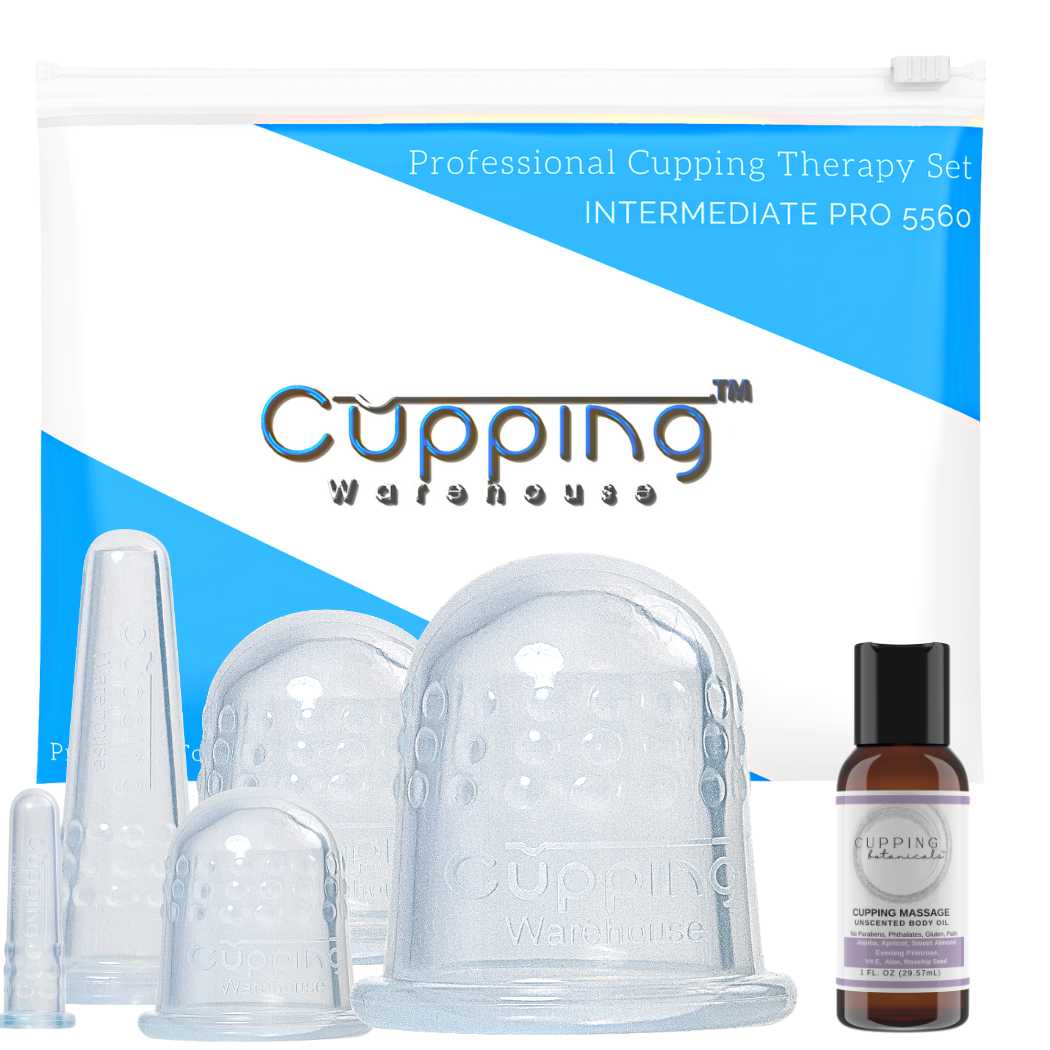 How to lift, sculpt, and define your natural beauty, naturally.
This Facial & Body Sculpting Cupping Kit May Help With:
Reducing Cellulite and Smooth Skin Texture
Finally enjoy access to the same tools used in high end spas for cellulite and uneven skin texture
Ultimate Facelift!
Diminish Fine Lines and Wrinkles and Lift plump saggy skin around eyes, neck, face and lips
Bloated Stomach and Digestive Issues
Remodel appearance of abdominal bloating, tissue smoothing & digestion issues
Muscle Aches and Pains
Reduce swelling and increase lymph drainage to help relieve joint pain and muscle aches
Your Cupping Kit Contains:
3 Silicone Anti-Slip Grip Body Cups:

1 Large Body Cup
1 Small Body Cup
1 Extra Small Body Cup
2 Facial Cups:
1 Face Cup
1 Eye/Lip Cup

Basic Cupping Instructions written by Professional Cupping Instructor
Legal Disclaimer: Do not leave on for longer than 1-3 minutes without further instruction by a cupping professional and remove sooner if needed. Do not glide over arteries. Not recommended for individuals on blood thinners or anyone who bruises easily. Not Recommended for Pregnant Women. Should not be used on open wounds or skin blemishes. Check with your Physician prior to using. If you have a condition you are not sure if cupping is appropriate for or have any doubt, check with your physician first. Check with Pediatrician prior to using on children.