Regular price
Sale price
$39.99
Unit price
per
Sale
Sold out
HOLIDAY GIFT SALE: BUY 2 BODY CONTOURING SETS & GET 1 FREE***You must add 3 sets to your cart & Discount applies automatically. ***
Choose your  Cellulite Body Contouring Cupping set With or Without oil. 
Not only does this luxurious oil  provide a slide without slip and formulated not to leave greasy residue, it is also jam packed with Antioxidants, Vitamins, Minerals & botanicals known for helping to restore and hydrate dry skin, improve skin texture and tone.  We also added two botanicals in this cupping oil which you usually only see in more expensive oil products, but it was that important to us.  What is is?   Evening Primrose Oil & Rosehip Seed Oil.

Body Contouring Cupping Benefits:


Increase Local Microcirculation (Blood & Oxygen)
Increase Production of Collagen & Elastin (Elasticity)
Fascia Remodeling Can Reduce the Appearance of Cellulite
Lifting, sculpting, firming and defining your beauty naturally.
Plump, tighten and lift sagging skin
Ease muscle aches, joint pain, and swelling

What Does Cupping Do For The Body?

Can Reduce the appearance of cellulite & smooths skin, lifts and plumps saggy tissue (#YesPlease), helps abdominal bloating, promotes healthy digestion, minimizes scars ,stretch marks, reduces swelling and bloating promotes lymph drainage, and helps crepey skin.
How Often Should I Do Body Contouring Cupping?

Initial Phase: 5-10 minutes per area, 3-5 times a week for 2 weeks

Maintenance Phase: 3-5 minutes, 1-2 times a week
Body Contouring Silicone Cupping Set Includes:

4 Clear Silicone Cups


1 Large Body Sculpting Cup
1 Medium Body Sculpting Cup
1 Large Grip Body Sculpting Cup
1 Small Grip Body Sculpting Cup

Written Instructions by Professional Cupping Instructors
Access to Videos & Tutorials Online
We design quality body sculpting cupping products we stand behind. 30-day money-back guarantee, if not satisfied with your results, a 1-year limited warranty, and FREE SHIPPING!
View full details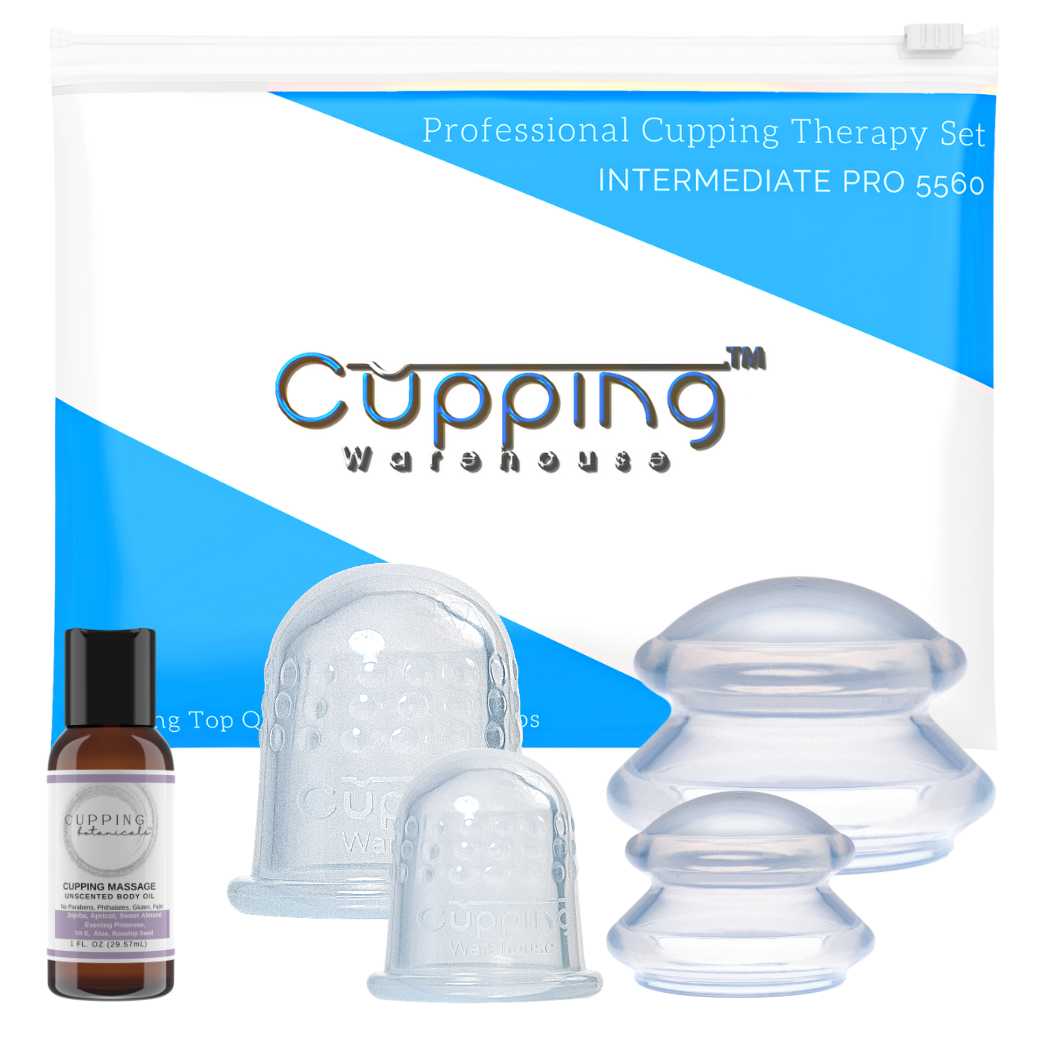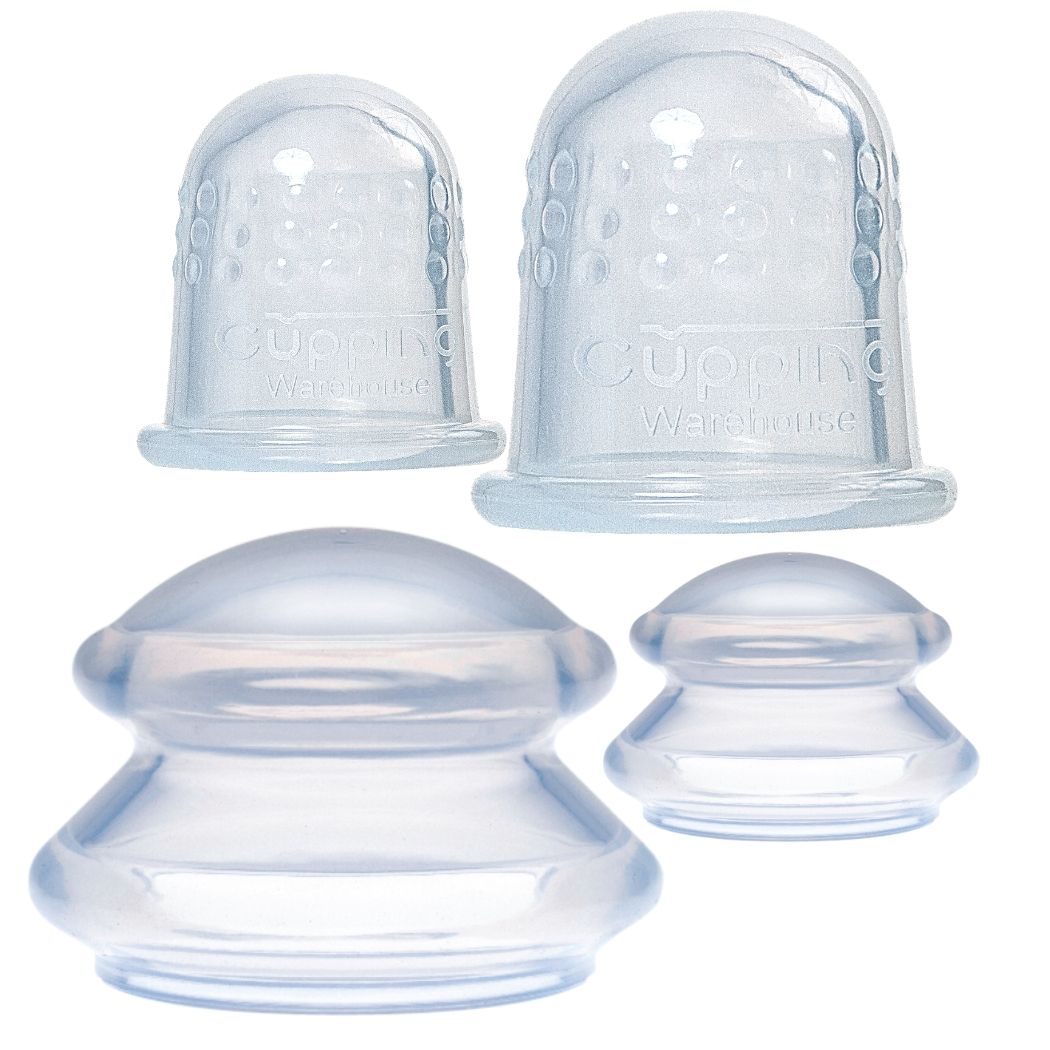 What is Cellulite?
Cellulite is the common name given to the dimpled, lumpy appearance of the skin over the thighs and buttocks, which gives flesh an uneven appearance comparable to orange peel or cottage cheese.

Cellulite is caused by superficial fascial thickening, shortening and contraction cross linking and adhesions resulting in "adipose" or fat pockets creating a depression that creates the appearance of lumpy, dimpled areas on the lower body characterizing cellulite.


How Is Cupping Used to Help With Cellulite?
Cupping is used to bring micro-circulation (fresh blood, oxygen hydration and heat) to the area to assist in draining out the old stagnant sticky fluids, soften the fascia allowing a remodeling of the tissue to smooth out the area allowing the adipose or fat cells to flatten out which diminishes the appearance of cellulite.
How to lift, sculpt, and define your natural beauty, naturally.
This Body Contouring Cupping Kit May Help With:
Reducing Cellulite and Smooth Skin Texture at home
Finally enjoy access to the same tools used in high end spas for cellulite and uneven skin texture. DIY Self Care Cupping Set for Home Use
Lift that Sagginess!
Lift and plump saggy skin under the booty, arms, hips, thighs, and legs. Studies reveal cupping helps stimulate Collagen and Elastin
Bloated Stomach and Digestive Issues
Remodel appearance of abdominal bloating, tissue smoothing & calm many digestion issues
Muscle Aches and Pains
Soften Muscle and Fascial tIssue to aid in reducing myofascial pain. Reduce swelling and increase lymph drainage. You can also use the cups on your joints for joint relief
Your Cupping Kit Contains:
1 Large Supreme Self Care Intermediate Pro 5560 Cup (Not XL)
1 Medium Supreme Self Care Intermediate Pro 5560 Cup
1 Large GRIP BODY Self Care Intermediate Pro 5560 Cup
1 Small GRIP BODY Self Care Intermediate Pro 5560 Cup
Basic Cupping Instructions written by Professional Cupping Instructor
Legal Disclaimer: Do not leave on for longer than 1-3 minutes without further instruction by a cupping professional and remove sooner if needed. Do not glide over arteries. Not recommended for individuals on blood thinners or anyone who bruises easily. Not Recommended for Pregnant Women. Should not be used on open wounds or skin blemishes. Check with your Physician prior to using. If you have a condition you are not sure if cupping is appropriate for or have any doubt, check with your physician first. Check with Pediatrician prior to using on children.